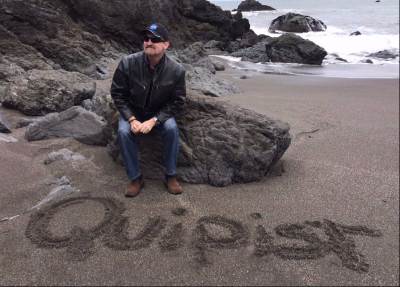 This is an interview with Emanuel F. Barros, a serial entrepreneur who has spent 30 years working in the technology sector.  He began in software, computer peripherals and semiconductors, before moving onto NASA Ames Research Center in 1996 to work on flight hardware for space-based research on the space shuttle and now the space station.  He left NASA in 2002 to work full-time in a previous startup, but returned to NASA 10 years later.  NASA in 2012.  Emanuel has started several startups over those years and is currently working on another startup with a co-founder also a NASA engineer called Quipist.com a social good platform.
Joanna: Emanuel, this article is primarily about lessons learned from your previous startup experiences.  My readers are interested in learning about your process and how you integrate those lessons into subsequent startups.  My questions will get to the heart of those lessons. 
Emanuel: First of all, I'd like to thank you for this opportunity to talk about the knowledge I've acquired from my years of working in technology, research and startups.  I'm happy to pass on any of my tidbits of wisdom and answer your questions the best I can.
Joanna: One of your past startups had tremendous potential. It had well thought-out products and in-demand services. Yet, it was unsuccessful. It failed due to a new team member and a misguided change in direction. Can you tell us more about this? 
Emanuel:  You're referring to one of my previous startups, I was the visionary founder and technology developer with a great team and various investors who were financing the startup. We were at a point where we were well on our way to big success! Most importantly, we had customers ready to buy our products and services as fast as we could provide them.  Of course, having customers equals revenue, equals achieving milestones that lead to success.
It's the nature of startups to have subjective perceived risk, so the news of ready, waiting and paying customers stirred up the investors, prompting them to insist on hiring an MBA to replace me as the interim chief executive and take over managing the progress, leaving me to focus on the technology.  Once he was onboard, he had a huge influence on the investors regarding finances.  At the time I felt it was premature, but everyone else believed it was better to plan ahead and be prepared for the next level of success so I agreed.  Overall it was a great plan, but unfortunately getting the right person onboard is also critical and tricky.  A candidate can have great educational pedigree, look great on paper and even have an amazing rolodex of contacts.  Unfortunately in our case, that person was missing one very important quality. Although he had great business credentials, he was not aligned with the vision and mission as the rest of the team: To deliver the product and services we had to the existing customers as quickly as possible.  Instead delivery was delayed and the little capital we had, was spent on building up how the company looked to new investors by getting a bigger office etc.  The result? Losing focus of what was already working. This can be deadly for a startup.  Before we were out of the woods financially, we were bankrupt.
When success is in the palm of your hand, and it's abruptly snatched away, it's incredibly heartbreaking. This painful and unexpected lesson taught me that clear communication and documented buy-in by everyone involved is a must for the startup visionary.  The assumption made by our team that someone else could be brought in to carry out our vision and mission accurately was a mistake.  He did an excellent job selling his ability to make it happen for us, which didn't work. Sometimes you need to listen to your gut and communicate firmly to the team.
In hindsight, I should have proposed a compromise. I should have insisted on completing the product build for our few customers before hiring an outsider. This example shows how critical it is to remain focused on the things that will start to generate revenue.  No one imagined we could go bankrupt so quickly.
Joanna: How can other startups avoid the same mistakes? 
Emanuel: The vastness of information passed around about startups can be daunting, misleading and confusing. What qualifies as a successful startup?  What qualifies as a failure?  Is there anything else other than a success or failure?  The questions never end and they shouldn't.
Unfortunately more than 90% of startups fail, even when they have a great product or service, great branding and paying customers.  It just takes one team member who is not in alignment with the mission, vision and full dedication of the rest of the group.  As the cliché goes, "there's no 'I' in Team". Having a team that works well together matters far more than anything else — I can't stress that enough.  Members on a startup team need to keep their egos in check, work seamlessly together and be completely committed despite setbacks.  Bickering, second guessing or rehashing past setbacks only erodes team confidence.  Thinking of the team as an organism that depends on all its parts to survive can be helpful.  It's all about the team and its commitment to succeed.
There's also the long game and the short game. Success means something different with everyone.  If you are a truly dedicated team player, you are in it for the long game. You're thinking outside the box, and accepting mistakes as setbacks and an opportunity to learn, moving forward in a more productive way. The short game is about turning a quick profit.  Short-game players fail easier from lack of dedication. They give up too fast, and lose confidence and focus after a single setback. True long-game players don't give up.  They are the entrepreneurs who understand it takes time and dedication to achieve lofty, but worthy goals.  Profits are never the primary goal, but simply a positive side effect of executing and staying committed. The long game is about the mission, vision and the team.  The short game is about greed.
It's not as black and white as success or failure. The major victories are clear once startups have executed a successful exit strategy, but there are many other types of successes worth identifying. .Setbacks and loses happen, but a true entrepreneur never has a complete failure.  If it's impossible for you to see a failure as an opportunity to course correct or learn, entrepreneurship and startups may not be your game.
Joanna: What should founders of technology and engineering startups when considering outsourcing or hiring staff to manage financing or operations?
Emanuel: It's important to focus on core competencies, which can mean outsourcing or delegating other parts of the business to new staff or third parties to manage the supplemental tasks of running a successful venture. It's not how much or how little you hand over, it's more about determining if the timing/person is right and the criticality of what is being outsourced. The leader always needs to know the macro view of every aspect of the company, especially the finances.
There is a difference between micromanaging team members vs. overseeing every aspect of the startup by communicating often and being engaged every step of the way.  It is important that whomever is chosen to lead the team, whether it's the visionary or someone trusted by the visionary, that they have or develop good management/leadership/communication skills and are capable of supporting the mission and vision.
Joanna: Who do you think should be managing finances?
Emanuel: If you're on track to start revenue, then you want someone who is great at tracking every cent until you have incoming revenue. Skillsets and track records are more important than educational pedigree.  Someone committed and honest, whom can stay focused and watch every penny, is best.  Even better is someone who has experience and knowledge of startup finances. Priorities in a startup can be different from a company with consistent revenue.
Manage your books carefully and communicate budget issues, if any, with your team often. Most of all, prioritize your budget carefully every step of the way.  The last thing the team wants to hear is that it overspent before reaching the next revenue milestone and that the startup is nearly bankrupt. Everyone on the founding team should always know where the company is financially.  Setting expectations is important.
Joanna: What tips can you give other budding startups for vetting co-founders, board members, advisors and investors?
Emanuel: It's not always the best pedigree and education that makes the best team players.  I'll take someone without an Ivy League education who is humble enough to work as a team player and execute the vision, versus someone who wants to impress you with their credentials before wrestling you in a different direction.  Albeit, there are times when a change of direction is needed because things aren't working, but if things are working and leading you to revenue, don't change your focus.
I look for confidence, humility, loyalty, integrity and respect in the person I'll be trusting and working closely with. Will they dedicate like the rest of the team? The best vetting is consulting their previous colleagues, to get a feel for their level of commitment and core competencies. Also, don't hold past failures against them.  Sometimes past failures are the best experiences to learn from.  Instead ask about what happened and what they learned from it.  That will give you a much better indication as to who they are.
Although a leader must see themselves as part of the team — having positive relationships with each team member — they also must have a neutrality that can help them make good objective decisions about potential hires. They should never add someone to the team simply because they like them or share common interests.  A new team member should have the right qualifications and, of course, references and background checks should come back clear.  I also look for automatic positive rapport with multiple interviewers over multiple days. Congruency with what the potential team member says and does. I also follow my gut. If everything seems right but I have a funny feeling, I listen carefully. Continuing with the theme of objectivity, the vetting process doesn't end with the bringing on a team member congruency, reliability and performance over time is the true test.  In a team you either succeed as a team or fail as a team.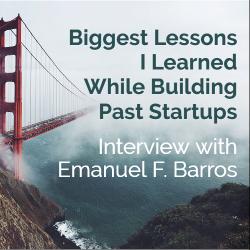 Joanna: What is a "social good" startup? Why a "social good" startup this time around?
Emanuel: My current venture is about community and empowering that community to make positive change in the world with "social good" causes. I've reached a point where it's more important to take actions that will bring about social good in a positive make-a-difference sort of way.
Recently I read Give and Take by Adam Grant, which was given to me by my co-founder in this new venture. This book aligns perfectly with who I am: It explains how people who give more than they take are much more successful in the long run.  That being said, you want to be a giver and align yourself with other givers.  Although we are a for-profit venture, it's more important that we are aligned with making those social good goals a priority. Non-profits have a stigma attached to them. For many people, that word "non-profit" automatically equates to never-ending fundraising or professional panhandling. It means constant struggle and never enough budget.  I believe that with the new world of high-tech/information age, it's becoming much more possible to fund causes that give back to the community without the struggle attached to non-profits.  I've been asked, 'why don't you just start a non-profit?'  I'll answer that with, "Why struggle when you can run a for-profit and support your causes?"  If you're a giver and not greedy, it's a no-brainer.  Look at TOMS' business model.  Giving away a pair of shoes to a poor child for every pair of shoes sold is following that model exactly!  More startups are doing this. I like what I see!
Joanna: To conclude, gleaning from all of your experience, what would you say is the most important lesson you've learned from your past and current startup?
Emanuel: I can't emphasize enough the importance of frequent clear communication and developing and retaining good relationships with every team member. Good rapport, trust, respect and transparency for all, including the visionary/leader are a must. I am grateful I have this with my current team, especially my cofounder.  If this isn't possible, then maybe the personality of those team members aren't a fit for your startup.  Also have fun with your team!  Get together regularly to do something social.  It's OK to be friends with your team.  You'll have much more trust and loyalty that way!
Lack of communication is a common mistake to make because it's easy to assume that the team is automatically on the same page with the current short-term and long-term goals. Although that may have been the case every other time, it doesn't mean it will be the case every time.  George Bernard Shaw once said: "Communication is the illusion that it has taken place".
Inevitable with a startup, there will be unpreventable and unforeseen obstacles that some team members might view as a failure. This is why the visionary/leader must get constant buy-in about short-term and long-term goals from every team member throughout the process. Frequently confirming everyone is on the same page is a way of getting back on track when obstacles appear. For instance, investors may become apprehensive if suddenly more money is needed for an unforeseen setback. A simple review of the recently discussed long-term goals will help them get onboard faster for the new short-term goals. If long-term goals haven't been reviewed for months, individuals might have more difficulty remembering and getting on the same page. Had I been more firm with my communication with my previous startup, there would have been a much better outcome.
Joanna: Is there anything else you would like to add?
Emanuel: Team members need a thick skin when there's outside criticism.  There will be criticism, but remember that outsiders don't know the mission and vision like the team does.  Always stay united and back your team over outsiders. If you can see how outside criticism has affected your team, hold a debriefing meeting to address this. It will prevent resentment, bickering and teammates being at odds.
Don't get stuck being overly cautious or a perfectionist. Attempting to perfect a product or service can cause the team to lose focus on getting to market.  Startups must be agile.  They must accomplish a huge amount quickly with minimal budgets.
I'll conclude with my advice for aspiring successful entrepreneurs:
Follow your dreams, goals and gut. They will inspire you to succeed.  Inspiration and dedication are everything!
Never commit to a venture solely for the money or greed. It's become more difficult to get away with greed due to technology and transparency of the information age.  You're only a few searches away from the truth!  Greed will only demonize you.  Give it up permanently.
Always give more than you receive: That's how real value is created. We don't live in a zero sum world. Economies grow with inspired, innovative activity. Everyone loves to help givers.
Have and use mentors who you believe in and trust.
Work with people that inspire you and you inspire them. This kind of teamwork is priceless!
Understand why you are doing your venture. Then go tell the world what's great about it.
If you don't give up on your dreams and goals, you will succeed!
Always act with integrity, loyalty and transparency. .
PR and marketing are important to get your message out.
Don't believe in magic, believe in yourself and the magic will happen.