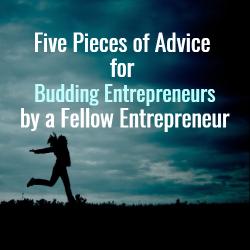 Entrepreneurship is a journey, and it's an exciting one. The first step in a successful entrepreneurial journey is finding your passion and having the zeal to burn the candle at both ends. Here are five pieces of advice to all those who are innovating and creating better solutions to transform the world.
1. Money is a by-product of following passion – Passion comes first and money comes second. Passion lies in something where you don't have to push yourself to get up every morning, and work continuously for hours on end. Making money is a by-product and if you are just working solely for wealth, there are going to be many distractions along the way. There are other businesses or better paid jobs that can bring you more success than the idea you are currently pursuing. However, when passion is the driving force of your journey, everything you do comes at ease. So, follow your passion first and then the money will follow.
2. Focus. Focus. – There's no alternative to this key piece of advice. Many failed entrepreneurs make excuses about unavailability of the market, that it was too early to gain momentum, or an immature market, but the key reason is lack of consistent focus and efforts. With a whopping world population of 7.5 billion and many disrupting technologies gaining grounds, there is a market for every idea or business.
3. Don't step in with pre-conceived notions – An entrepreneurial journey starts with an idea to solve a specific problem or create better solutions than existing ones. However, an idea can be implemented in several ways. Sticking to one plan and putting in all efforts and resources will soon drain you.
Don't start with the pre-conceived notion that initial plans will always go a certain way. There are high chances of alternatives and doing things in a better way than what was originally planned. Continuous efforts are necessary but not at the cost of draining efforts, money and most importantly, passion.
4. At least one client – This will get you three things. First, it will give you motivation as you have at least one person that needs your product. Second, you will learn to listen to your clients, and third, you will be beaten by paying clients, which will only make your products better as you'll be receiving constructive feedback.
It is a continuous learning exercise that can help in making incremental improvements in products/services/businesses. Client feedback and innovation go hand in hand. They complement each other in business and in making great products/services, with most and better ROI. A business will go a long way if entrepreneurs pay attention to even the most minor customer feedback or advice, which often have the power to make or break it.
5. Bare minimum level of economic support – Always have some level of financial support to fulfill your basic requirements and those of your dependents. Worrying about basics can create insecurity and lack of trust, which would dwindle your focus and efforts during your entrepreneurial journey.
---
About Cambridge Technology 
Cambridge Technology Enterprises (CTE) is a leading global technology company transforming organizations into "AI-first" leaders. CTE is enabling its customers to create AI solutions that transform their businesses and industries; helping build AI platforms and solutions. CTE enables organizations by providing a range of AI services; by helping solve the world's complex and most interesting business challenges with AI. CTE gives organizations unparalleled access to cutting-edge technology by bringing together the best-in-industry using its years of expertise in building solutions for some of the world's largest and most innovative enterprises; leveraging Big Data, Cloud & Machine Learning experience. CTE's products and services address all the transformational AI needs of an organization — from strategic workshops and ready-to-deploy solutions, to implementation of transformative business solutions through its AI as a Service (AIaaS). CTE's expertise across multiple domains makes it the preferred choice for organizations seeking an AI Partner to innovate and leapfrog the market. CTE is assessed at Maturity Level 5 for CMMI v1.3 with ISO 9001:2008, ISO27001:2005 certifications. For more information, visit www.c7e.co or follow @cam_technology on twitter.